Services with Metal 3D Printers
The combination of our metal 3D printing sevices and our precision machining technologies as a secondary process brings a great result to you. Our products are ready-to-use at arrival. You can install it in your devices right away.
We perform a secondary process including polishing of the surface or the interior surface of the products, after metal 3D printing.The secondary process is already taken into consideration in the designing stage, which gurantees our commitment to your needs.
Metal 3D Printers - Our Services
①One-stop services including the secondary process such as surface finishing.
We offer one-stop services through the entire process including the secondary processing, from initial printing to super-fine finishing. You don't need to work with different suppliers for each step anymore.
②High precision finishing with our precision machining technologies.
An example of a socondary process - Closed impeller

After removal of supports
(Surface roughness : Ra20μm)

After finishing
(with internal surface polishing)
(Surface roughness : Ra0.5μm)
We perform high precision polishing on the surface or to the interior surface to improve the surface roughness level which is the weakness of metal 3D printing.
Other Services
1) We offer one-stop services through the process from initial printing to finishing. The parts and the products are ready-to-use at arrival.
2)We conduct verifications beforehand to reduce the risks of failure, using Simufact Additive, a software solution of MSC for the simulation of the processes.
3)The thermal strain is a typical challenge in metal 3D printing. We correct the model shape to minimize thermal strains by conducting simulations.
4) The surface of the products are not smooth. We select not only blast finishing but the best polishing method for each product, to achieve better surface quality.
5)Trial pieces are available from 1 piece. Mass production is supported as well.
6) If you have concerns about our manufacturing quality, we are happy to discuss with you about our quality control method to better handle the situation. We can discuss about the quality of materials (composition, fluidity), the quality of the parts and the products (composition, strength), or to freeze the manufacturing process etc.
(We obtained a quality management system JISQ9100 for the aerospace/diffence industries, in Jun 2019.)
7)We can handle the difficult-to-cut materials including tungsten, not with traditional cutting techniques but with the additive manufacturing method.
8)We actively provide suggestions to our customers for optimizing the shapes for metal 3D printing.
Metal 3D Printers - Our Solutions
Metal 3D Printers - Trial Case Studies
Metal 3D Printers - Supported Materials
・Pure tungsten
・Inconel 718
・Hastelloy X
・Ti64
・SUS316L
・AlSi10Mg
・AlSi12
・Maraging Steel
・SUS630
Supported size of printing:Up to 250x250xH325(mm)
Metal 3D Printers - Devices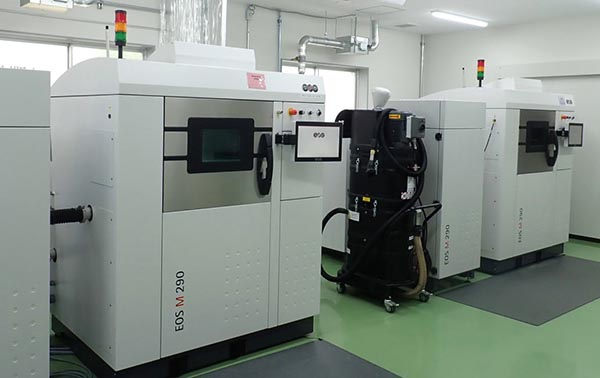 | | |
| --- | --- |
| Device | EOS M290 |
| Number of devices owned | 2 |
| Method | L-PBF(Laser Powder Bed Fusion) |
| Build volume(㎜) | 250×250×H325 |
| Features | High quality printing. |
| | |
| --- | --- |
| Device | TRUMPF TruPrint1000 |
| Number of devices owned | 1 |
| Method | L-PBF(Laser Powder Bed Fusion) |
| Build volume(㎜) | Φ100×H100 |
| Features | Delicate shapes are achievable. |
Metal 3D Printers - Our History
| | | |
| --- | --- | --- |
| 2015 | Dec | Implemented EOS M290. Started offering services with metal 3D printers. |
| 2018 | Dec | Founded AMTEC, Advanced Manufacture TEchnology development Center. |
| 2018 | Dec | Implemented EOS M290 another device. |
| 2019 | Jun | Obtained JIS Q 9100, a quality management system specific to the aerospace/defence industries. |
| 2020 | Oct | Implemented Simufact Additive, a software for the simulation of modeling or distortion. |
| 2021 | Mar | Implemented TruPrint1000, a compact machine for precision products. |
Metal 3D Printers - Overview
The metal 3D printers we adopted are "Powder Bed Fusion (SLM) method".
How it works:
Metal powder is spread over thinly .
The targeted area is exposed to a laser beam. The laser beam melts and fuses material powder together.
Step 1 and 2 repeat until the entire model is created.
The finished product is taken out.
The base-plate is detached from the finished product.
The supports are removed.
Powder Bed Fusion Method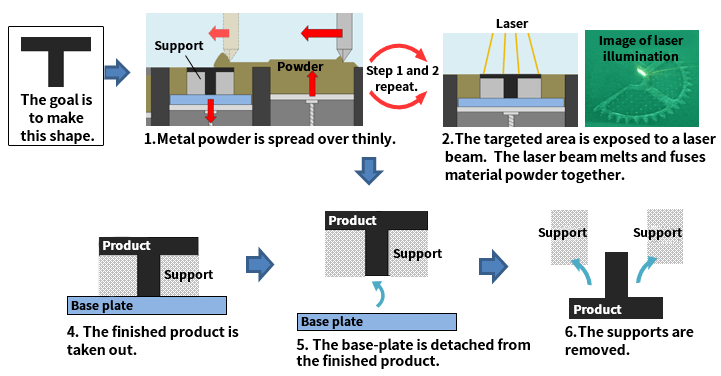 Printer Solutions of Toray Group
Toray group offers a wide range of services related to 3D printing, including materials, material analysis, and processing.
See below for contact information of Toray Group companies for 3D printer solutions.
For materials:
For analysis:
For modeling:
About Us

Toray Precision is a pioneer in precision micromachining technology.

Since the founding of Toray Precision Co., Ltd. in 1955, we have been contributing to the synthetic fiber industries worldwide, by making spinnerets which is a key technology for synthetic fiber manufacturing.
Our experiences and technologies obtained through our history in the precision micromachining field are widely used in various industries nowadays, including semiconductor, measurement/inspection, aerospace, and medical instruments.